Anthony was born while his parents were both teenagers. Having a child at a young age was not a part of either of their life plans. His parents tried their best to look after him with the help of Anthony's father's family. His mother suddenly stopped being directly involved in his life by the time he was 4 years old. The exact reason, if there is even one, is unknown to Anthony. The loss of his mother has haunted Anthony throughout most of his life - more so as he got older. The question of why she left is something that Anthony ponders every so often.
The only insight Anthony has to who his mother was are old VHS tapes and photographs that contain fragments of moments that they shared. For The Ghost Of My Mother, Anthony revisited these recordings to find answers to some questions. The VHS tapes documented the first 4 years of Anthony's life as his mother slowly started to fade away.
The Ghost Of My Mother was inspired by the quality of the VHS tapes. Their degradation reflects the degradation of memory. It was decided to placed all the visuals inside of a doll house to reflect the domesticity of the scenes and their connection to childhood. The videos are shown through the windows by using the Pepper's Ghost technique. A monitor is placed where the ceilings would be and the video is reflected onto a piece of acrylic. This gives the figures their ghostly appearance when they're viewed from the ideal angle.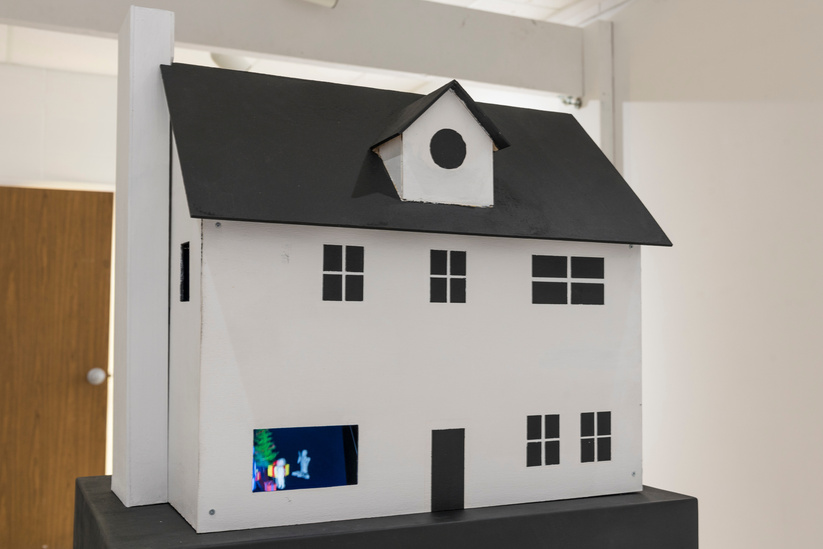 The Ghost Of My Mother tackles the subject of trying to deal with loss and abandonment. For many years, Anthony has tried to forget the fact that she existed. Growing up, almost everyone had a mother or a mother-figure. This is a role that has never and will never be fulfilled for Anthony. There are many questions that may never be answered. He has been trying to come to terms with this for the past few years. Anthony has been unknowingly exploring themes related to the loss of his mother in past artworks.